Everything you need at the gateway
We Are Untangle Partner in Egypt
"Untangle" is now Untangle Next Generation (NG) Firewall.
NG Firewall manages every aspect of network control from content filtering to web caching, remote access to policy enforcement, all in one simple, drag & drop interface.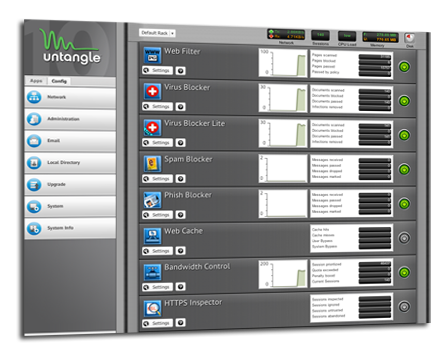 What is NG Firewall?
NG Firewall is a next-generation platform for deploying network based applications. The platform unites these applications around a common GUI, database and reporting. NG Firewall's applications inspect network traffic simultaneously, greatly reducing the resource requirements of each individual application.
Is NG Firewall hardware or software?
NG Firewall is software that can be installed on standard Intel-compatible hardware, or you can purchase a hardware appliance directly from Untangle with the software pre-installed.
Where does NG Firewall sit on the network?
NG Firewall should sit at or directly behind the network gateway in between your network and the internet.
NG Firewall Features & Benefits
Protect
Untangle's NG Firewall goes beyond traditional firewalls to give you more protection at the gateway without the need for additional hardware to maintain – saving you time and money. You get a full complement of apps, included in every package, to address common threats.
Filter
Untangle's NG Firewall handles your content filtering needs without requiring additional appliances – saving you time and money. Enjoy powerful, granular control from our next-generation platform at a price that just makes sense.
Perform
NG Firewall's advanced bandwidth management features set it apart from other next-generation firewall and unified threat management solutions. Optimize your bandwidth usage to reduce overages and keep expenses down.
Connect
NG Firewall includes support for secure VPN connections from remote users as well as customizable controlled access options with Captive Portal.
Manage
NG Firewall gives you total control per group and per user. Get visibility into traffic and utilization with detailed reporting.
Add-Ons
Untangle provides world-class support services as well as complete re-branding as optional additions to your solution.